Tim Kelley – The Higher Guidance Training
Tim Kelley – The Higher Guidance Training
In the Higher Guidance Training, you'll:
Module 1: Finding the Source
Each of us has a sacred source, a wellspring from which wisdom, guidance and intuition flow. Some of us have many! In this session, we will identify the different sources you can access for direct guidance – and which one will work best for you.
Discover the 3 types of sources for deeper wisdom and guidance.
Uncover which of the sources are most effective for accessing your wisdom.
Identify the primary source that will serve you best in all areas of your life.
Uncover the blocks that prevent you from accessing your sacred wisdom.
If no source is readily available in your belief system, learn how to create one
Module 2: Clearing the Path
The biggest obstacles for an open channel to higher guidance are fears, skepticism and limiting beliefs. Over 99% of people are limited in their access to wisdom until they can clear these from their path. You will learn simple, powerful techniques that will open the lines of communication – and make it far easier to manifest your purpose.
Discover how to live your purpose in a way that feels safe and supportive.
Learn 2 methods for clearing fears and limiting beliefs that block sacred access and prevent you from taking action to change the world.
Develop a healthy relationship to your needs (and learn how to meet them, while living your mission).
Module 3: Creating the Connection
The most popular methods for connecting to guidance aren't necessarily the most effective ones. Learn the techniques that work best to maximize your chances of getting a "clean," effective connection. Also, learn how some types of questions get better results than others.
Discover which specific techniques are most effective for receiving – and boosting – higher guidance.
Uncover 3 methods for creating a reliable connection to a source of wisdom.
Learn how to tell when the connection lines are open, and when they are blocked.
Module 4: Discerning the Truth
After receiving guidance, most people want to know if their experience was real. The psyche is a crowded place, and the information you received may not have been coming from your highest source. Learn the tests that Certified True Purpose™ Coaches use with their clients to verify that a connection was authentic.
Learn how to deal with the natural skepticism that arises from connecting with higher guidance.
Discover 37 different tests and criteria for determining whether the information you received is really from a legitimate source.
Find out how to recognize the qualities and characteristics of authentic communications from higher sources.
Module 5: Gathering Wisdom
Now that your connection is open, a world of information awaits you. In this session, you'll learn about your path, your purpose – and get amazing advice about the thorniest issues you encounter.
Find out which kinds of questions provide you with the best results.
Learn powerful techniques for gathering information about your purpose.
Discover insightful information for moving forward on your path.
Uncover the best strategies for using your higher wisdom to create positive change in the world.
Receive invaluable advice on perplexing problems and critical issues.
Module 6: Drawing the Map
Given what you have received, you can begin to design a path forward for yourself. Who will you become? Who are your best allies? How will you change the world? In this session, you will create the vision of the person you are meant to be – and engage higher assistance in manifesting it.
Create a strategy for your contribution to the global shift.
Design a path forward to fulfill your unique contribution.
Visualize the change agent you are meant to become.
Module 7: Integrating Higher Guidance into Your Life
Many people who engage in communication with trusted sources fall back into old ways of being. Learn the practices you must cultivate to make higher wisdom an everyday part of your life. Equipped with this knowledge, your path will continue to unfold as long as you nurture it.
Develop a plan for maintaining an open connection to your inner wisdom.
Learn about the many pitfalls and opportunities that lie ahead on your journey.
Discover the practices that will help you stay steady on your most rewarding life path.
The Higher Guidance Training Bonus Collection
In addition to Tim's truly transformative 7-week online training, you'll also receive these powerful training sessions with the world's leading visionaries and teachers. These bonus sessions are being offered to further complement what you'll learn in the course – and take your understanding and practice to an even deeper level.
Following Your Purpose and Manifesting Your Dreams
Dialogue with Marcia Wieder
In this special session, Tim will be joined by "America's Dream Coach," Marcia Wieder, to discuss the art of following higher guidance to fulfill your purpose and manifest your biggest dreams. These longtime friends will share key practices and mindset shifts that are essential to stepping forward in a powerful way.
Marcia Wieder, CEO and Founder of Dream University® is leading a Dream Movement. With over twenty years of coaching, training and speaking experience, her inspiring message has touched audiences from 50-5000 at companies such as AT&T, Gap and American Express. Whether teaching at the Stanford Business School, speaking to executives in China or addressing young women at Girl Scout Camps, her riveting style impacts audiences worldwide. Appearing several times on Oprah and The Today Show, and in her own PBS-TV special, Marcia has been able to share her message with millions of viewers. She is a bestselling author and has written 14 books dedicated to achieving your dreams.
Know Your Purpose Through Meditation Downloadable CD and E-Book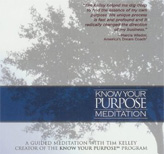 This meditation program is designed to help you find your life's purpose by creating the conditions to help you access the specific details of your purpose. The downloadable CD includes a twenty-page companion e-book, which is designed to give you additional background and context to help you get the most from the meditation process. Detailed written and audio instructions are included. No prior meditation experience is required. You will find this meditation to be a powerful step in your process.
"Successfully Living from Guidance" Panel Discussion
In this special call, Tim will moderate a panel of people who are successfully living from guidance and manifesting their purpose. They will share about their journey from first connecting to their guidance, to now fully integrating it into their lives and fulfilling their purpose. You'll hear powerful stories about what can unfold as you integrate this work fully into your life, and receive tips on the journey ahead.
Purposeful Marketing
Dialogue with Jeffrey Van Dyk
One of the great benefits of having a connection to divine guidance is that it can provide you with important information and powerful language that you can use to create amazing marketing for your work in the world. In this special call, Tim will be joined by Jeffrey Van Dyk, CEO of Big Vision Business, to discuss this important topic.
Jeffrey Van Dyk is an international leader in the conscious business movement and CEO of Big Vision Business. Often referred to as The Messenger Maker, Jeffrey has trained thousands of people all around the world to discover their purpose, dial in their core message and build thriving businesses that make money and deeply serve their tribe.
A former top trainer for Microsoft and two-time president of the International Coaching Federation in San Francisco, Jeffrey personally designed a training system that helped world-changing leaders like Peter Jennings, Donald Trump, & Bill Gates use online technology to share their message with the world.
As the co-founder of the Spiritual Marketing Quest, he created a legendary event series that helped entrepreneurs bring more truth and aliveness to their marketing. Today as CEO of Big Vision Business, he supports a global community of committed business owner become truly influential, global thought leaders. This is where their body of work gets locked in and their success soars as their purposeful work gets into the hearts and minds of those who are asking for it now.
Get Download Tim Kelley – The Higher Guidance Training