Suzanne Scurlock – Reclaiming Your 6 Body Wisdom Areas
Suzanne Scurlock – Reclaiming Your 6 Body Wisdom Areas
What You'll Discover in These 7 Modules
In this 7-part transformational intensive, Suzanne will guide you through the fundamental spiritual skills and competencies you'll need to successfully tune into and use the valuable knowledge your body innately holds to release your obstacles to thriving — physically, emotionally and spiritually.
Each contemplation and training session will build harmoniously upon the previous ones so you'll develop a complete holistic understanding of the practices, tools and principles you'll need to sustain a strong, deep, intimate relationship with your own unique physical self for a lifetime of greater awareness and vitality.
Module 1: Bust the 5 Body Myths Derailing Your Body Awareness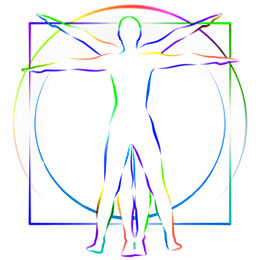 What's your current relationship to your body? Is it friendly or does it feel uneasy or unsettled? As you age, are you judging your body harshly, liking what you see less and less? Despite your spiritual growth, do you still sometimes find your self-worth tied to your appearance?
Oftentimes, our true perceptions of our body exist below the waterline of our consciousness, which, like static on a radio station, can be an internal distraction that can prevent you from being present in the moment AND in your life.
SO… during this first module, to start to "make friends" with your body, you'll be guided in taking an assessment of just how comfortable you are in your own skin to discover and address your beliefs (or Body Myths) hijacking your joy and aliveness.
In this module you'll:
Gain new awareness about your limiting beliefs about your body
Discover how to move beyond self-judgement
Learn the 5 Body Myths that may be derailing your relationship with your body
Discover the truth behind the myths
Lay the foundation for entering your Body Wisdom Centers (CAT)
Module 2: Discover & Reclaim the "Front & Back" of Your Heart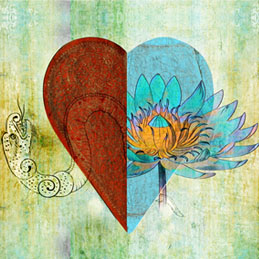 Most of us care deeply about those in our world. In fact, our whole lives may be centered around others — our radiant heart revealing the caring, compassionate person we are. Yet, when you're "all heart," pouring so much of your love energy into your life and work — without refilling your own cup, often or deeply enough — you can become depleted. You may even suffer "compassion fatigue" and the energy and inspiration for your own ambitions can flicker out.
Knowing the hidden anatomy of your heart and how it can help you to assess its needs in any given moment can lift you out of this cycle of depletion and burnout. As you learn to draw from your heart's natural wellspring for rejuvenation, vitality and joy, you can strike a balance that allows you to be the compassionate person you are AND keep your own health and inspirations thriving as well.
In this module, you'll discover:
The hidden anatomy of the heart — that it has a "front" and "back" and what you need to know to protect and draw from these areas
The importance of caring for your heart
Easy exercises for reconnecting with your heart
How to expand your awareness of your heart through touch and deeper heart presence
Module 3: Embrace the Wisdom of Your Gut & Expand Your Instinctual Knowing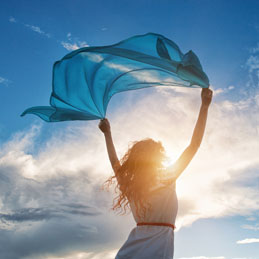 How often has your gut clearly told you what you should do, but you second guessed yourself and sabotaged that instinctual knowing by reasoning it away? Or, perhaps you've experienced a crystal clear message from your gut, only to quickly defer it to your brain, where you begin to interpret it and create plans based on your interpretation rather than on what your gut originally told you? These are classic ways we block ourselves from the instinctual knowledge our gut holds for us.
Your gut is the repository of great wisdom about what's happening inside AND around you in this moment… and then in the next moment, and the next. Your gut gives you clear signals about whether people, situations or events in your life are right or wrong for you at this time. So, learning to listen to (and trust) the cues we receive from this wisdom area is important — to creating the life we desire as well as to our safety.
In this module, you'll discover:
How the gut registers what you need to know most
The importance of staying connected to your gut in each moment
Why the power of the present moment is the critical key to embracing the wisdom of your gut
Why the gut is the most misinterpreted wisdom area and how this can keep you trapped in stress, overwhelm and confusion
An explorative exercise to help you know how to use your gut for wise decision making in times of inner or outer confusion
Module 4: Open to the Ancient Primal Power of Your Pelvis for More Joy & Sensuality
Our culture and religion can discourage us from embodying the primal power of our pelvis — doing so considered seductive or even dangerous. Yet, advertising lures us in with seductive marketing, knowing we're instinctively drawn to this powerful wisdom area. Despite this, however, the bottom line is that we rarely live fully from this place or integrate its power into our overall body wisdom.
Without the potency of this wisdom area, our inner fire grows cold and our health and vitality suffers. We lose our resilience to bounce back from stress, and chronic illness can ultimately creep in.
When the pelvis is locked down or compartmentalized due to trauma or physical injury, we're unknowingly draining the life out of our heart's inspirations. So, this "black sheep" of the body wisdom areas is an important one to tune into.
In this module, you'll discover:
"It's all about the bass," which is rarely experienced fully or clearly
Why a block in your pelvis can make everything in life harder
How you may use willpower when your pelvic power is diminished — and the price you pay
The ancient primal power of the pelvis for joy, sensuality and pleasure
An exercise to unlock your pelvis energy
Module 5: Use Your Legs & Feet to Step Into Your Healthy Energy Flow
When you need to make a decision now, get your legs and feet moving!
So often we attribute what this wisdom area brings to other areas of the body. We think, oh, my heart told me to take that route. Or, my gut has the lead on that one. When, in fact, what often catalyzes good decision-making is movement of the legs and feet.
The cross body movement of this area is even believed to signal the brain's right and left hemispheres to integrate, opening us to better solutions and possibilities for our lives. The feet and legs also stimulate creativity and generate energy along with many other stealth benefits.
In this module, you'll discover:
The metabolizing effect of the legs and feet when they're activated
How the legs and feet integrate the left and right hemispheres of the brain to help you discover new options and opportunities
How this portal to your healthy energy flow brings practical, measurable success in all areas of your life — from relationships to career to finances
An exercise that will show you how to make hard decision-making easy
Module 6: Claim the Clarity & Steadiness in Your Bones to Live From Your Core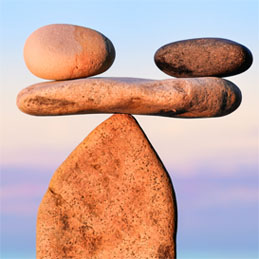 Do you find yourself pulled off center and feeling "off" due to the stressors of your life and the world around you? Does your external world dictate your happiness? Do you tell yourself, I will be content when my partner changes, when my work situation is better, when the turbulence and dangerousness of the world's political circumstances change?
If any of the above ring true for you, then this wisdom area is calling to you. The bones are your densest form of connective tissue and the sturdiest structures in your body. They naturally radiate a sense of steadiness. And, when you drop deep into this inner recess of who you are, the urgency of the outside world fades, your perceptual lens expands and the fog around you slowly fades bringing greater clarity.
In this module, you'll discover how:
Your bones give you a sense of steadiness in times of internal emotional turmoil
To use your bone presence to be a steadying influence when the world around you is in chaos
To use your bones to receive clarity
Honoring your bones, your innermost sanctum, allows you to live from the core of who you are
Through a special exercise, you can experience your innermost sacred spaces
Module 7: Discover Your Brain's Power to Interconnect With All Your Wisdom Areas
Your brain has long been king of the body. It second guesses your gut, invalidates your deep heartfelt responses and inspiration for being unreasonable, and it's highly suspicious of the power of the pelvis. The brain also claims credit for decisions activated by the legs and feet, and generally views itself as superior to the rest of your body.
Yet, recent research shows how much wisdom actually resides within the rest of the body, and how this knowledge is fed to the brain to help us make healthy resolutions to life's challenges. We can still value the brain for the wonderful integrator of information, mapmaker and strategizer it is AND for its ability to help us listen to our entire body's wisdom.
In this last module, you'll discover:
The brain's part in integrating your body's wisdom
The important interconnections between the brain and all the other wisdom centers
What happens when the brain values the heart and listens to it
The Gut-Brain Connection and how it increases the accuracy of all your decisions
Your body as an integrated system offering optimal living not just survival
Intuition re-defined with input from the whole system
An exercise to experience your integrated system
The Body Wisdom Bonus Collection
In addition to Suzanne's transformative 7-part virtual course, you'll receive these powerful training sessions and bonus materials. These bonuses are being offered to complement what you'll learn in the course and deepen your understanding and practice.
Reclaiming Your Body: Healing From Trauma & Awakening to Your Body's Wisdom
First Chapter of the Ebook From Suzanne Scurlock-Durana
At one level or another, traumatic experiences are a part of any life — from the emotional shock of a parent or peer's careless words in childhood to intense physical injuries to life-threatening emergencies and/or assaults. Not only do these events take a toll on our psyches, in Reclaiming Your Body: Healing From Trauma & Awakening to Your Body's Wisdom (New World Library, June, 2017), author Suzanne Scurlock-Durana explains how they they cut us off from the wisdom of our bodies as well.
What Matters Most
Audio Interview With Suzanne Scurlock-Durana and Paul Samuel Dolman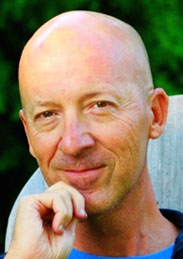 In this deeply touching interview with Paul Dolman, Suzanne shares her depth of love, compassion and practical wisdom. You'll hear her discuss how to tap into the body's wisdom to reconnect to yourself, to the present moment and to what is most important for you to connect to on a soul level so you can fulfill your life's purpose. Her words carried such grace and resonated deeply on so many levels.
Paul Samuel Dolman is passionate about connecting on a soul level with other people, self-realization that applies to everyday living and finding wisdom in all things. He is the author of the highly successful book, Hitchhiking With Larry David, as well as Martha's Vineyard Miracles, Seven Crazy Days In Maui and What Matters Most. He travels and gives talks on a variety of subjects. He has been a professional musician playing piano and guitar. He worked as a film producer in Hollywood and founded an entertainment company. He currently divides his time between Martha's Vineyard and Anastasia Island.
Basic Relaxation & Energizing Exercises
Audio Package From Suzanne Scurlock-Durana
This audio series is particularly useful for those who desire more grounding and filling exercises to complement their practice. You will be taken deep into the energy field within the body, and receive the tools, knowledge, sensory cues and imagery to build or enhance your own energy field. The second and third segments of the main session are meant to be used once the longer exploration feels comfortable. Also included are two shorter explorations to give you more concise exercises in order to be practical and useful on a daily basis.
Get Download Suzanne Scurlock – Reclaiming Your 6 Body Wisdom Areas