Keti Sharif – NEW! The Healing Power of Bellydance

Keti Sharif – NEW! The Healing Power of Bellydance
Enrol into 'The Healing Power of Bellydance' course now and receive your course materials – there for you as long as you wish to access them! Its a chance to view topics and get familiar with the Teachable platform. Also, download the Teachable app so that you can view all your course content whilst off line too.
5 x BONUS LIVE RHYTHM CLASS CLIPS ARE now online too.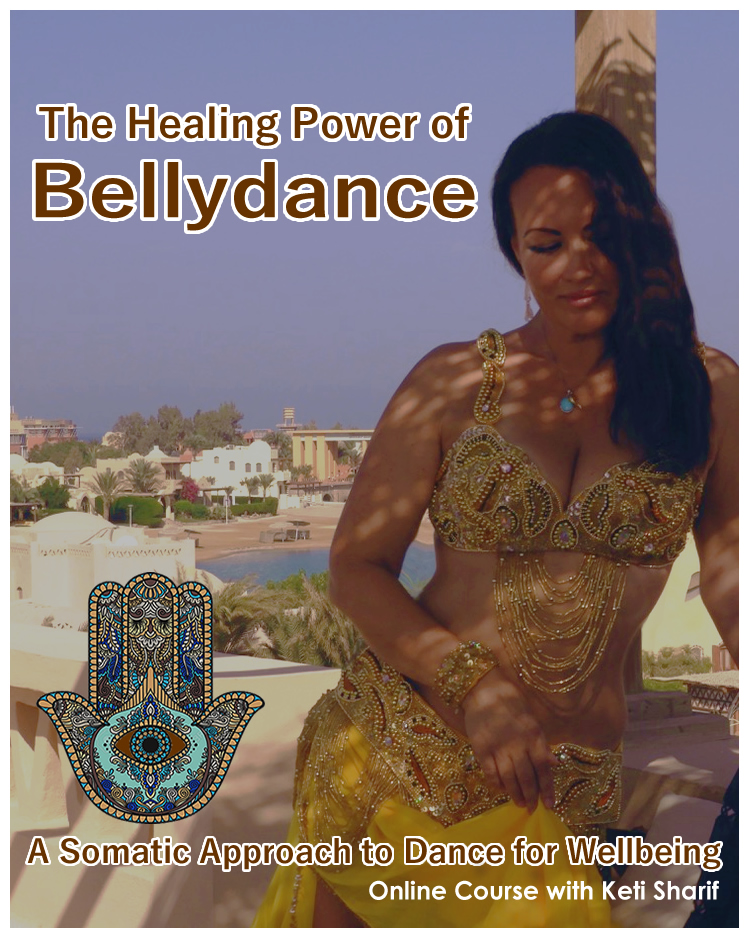 Keti Sharif
Keti's Somatic and musical approach to bellydance encourages mindful movement and creativity, whist preserving cultural integrity. Her teachings enrich the dancer's practice, improving musicality, skills and confidence, with helpful ways to access innate body wisdom for both artistry and wellbeing. Originally from Australia, Keti developed A-Z Bellydance in Egypt, where she lived for 20 years, organising live music and cultural events. The methodology is currently taught in 40 countries, and references her years of experience with live Arabic music, and professional Somatic Movement training.
Course Curriculum
THE HEALING POWER OF BELLYDANCE
Welcome
What to expect in this course – content overview
Bonus – 'Women who Follow their Dreams'
PART 1 – A MODERN SOMATIC APPROACH FOR AN ANCIENT ART
Lesson 1: Introduction – The Dancing Heart; My Personal Healing Journey (32:07)
Lesson 2: Bellydance as a Healing Art; Historical, Social & Cultural Contexts (96:01)
Lesson 3: Somatics & Mindful Movement; Sensory Pathways to Body-Mind Health (19:33)
Lesson 4: The Psycho-Physical Connection; Body-Mind Aspects of Movement (19:14)
Lesson 5: Understanding the 'Chakra' System as Key Endocrine Centres (13:43)
PART 2 – HEALING THROUGH BELLYDANCE; FINDING RESILIENCE & FLOW
Lesson 6: How Music-Movement Relationships Can Facilitate States of Healing (25:13)
Lesson 7: Rhythm, Footwork & Foundation; Gravity, Levity, Stability & Mobilization (10:17)
Lesson 8: Dancing the Elements of Earth, Water, Fire & Air (19:22)
Lesson 9: Relax the Nervous System with Bellydance; Find Fluidity, Flexibility & Flow (9:19)
Lesson 10: Energizing Bellydance; Boost Strength, Resilience, Confidence & Fitness (13:04)
PART 3 – WELLBEING FOCUS AREAS & CREATING YOUR OWN PRACTICE
Lesson 11: Upper Body Movement to Support Lymphatic Drainage (11:21)
Lesson 12: Specific Bellydance Combinations to Assist Fat Burning & Weight Loss (63:57)
Lesson 13: Trauma Support; Healing Through Somatics & Specific Body-Mind Techniques (19:34)
Lesson 14: Physical Limitations; Modifications for Specific Health Issues & Challenges (17:17)
Lesson 15: How to Create Your Own Personal Bellydance Program for Wellbeing (7:57)
Test & Further Learning
Test your Knowledge
Further learning and programs