Andrew Frezza – Rockstar Coaching Course
Andrew Frezza – Rockstar Coaching Course
Retain More Members, Build a Stronger Team, and Make More Money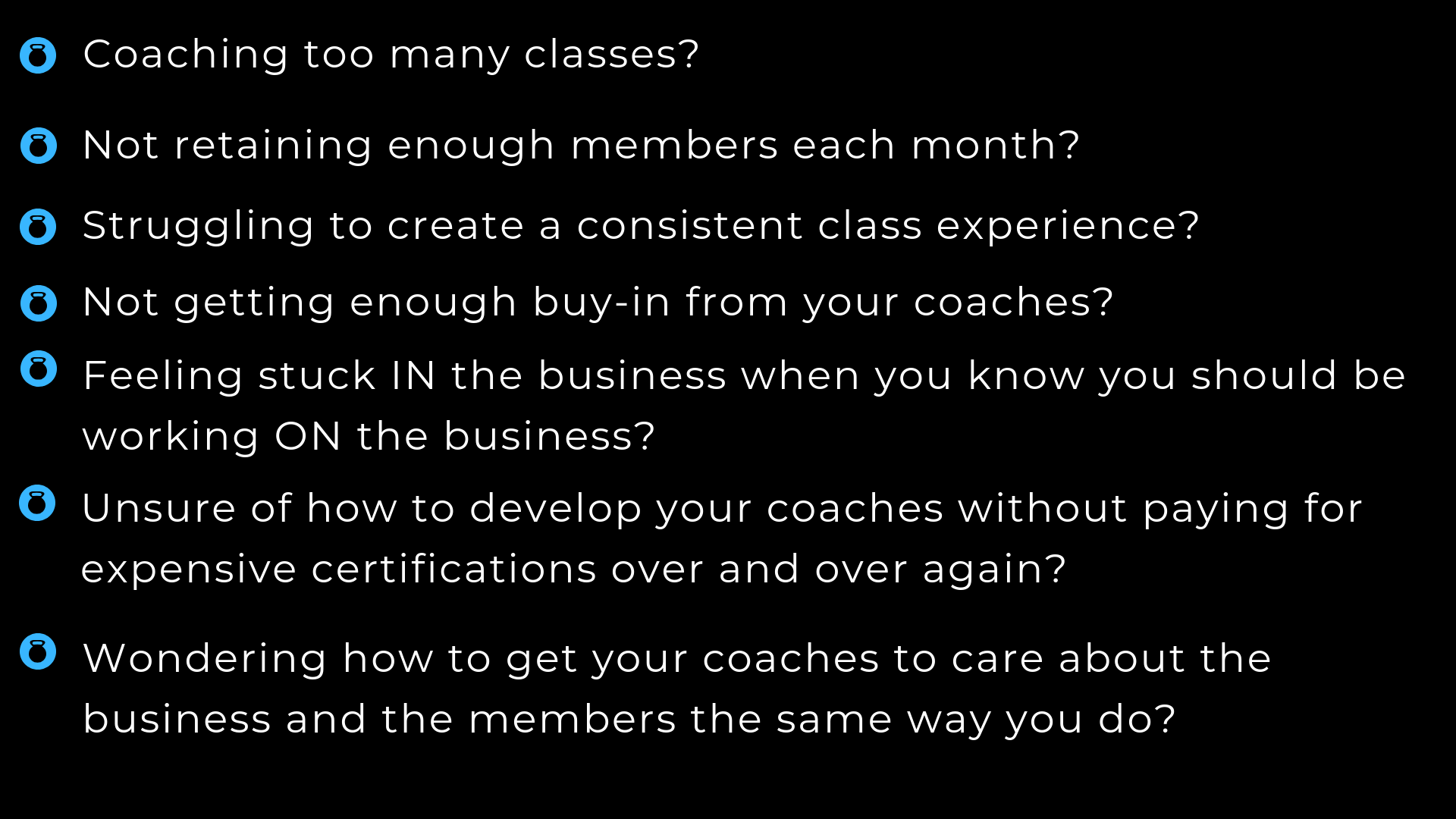 Skip the 6-week challenges, expensive marketing gurus, and huge Facebook or Instagram ad spend.
Most of us already have plenty of people already walking through our doors to achieve a level of success beyond our imagination. We simply need to do a better job with the people we already have.
The difference between long-term success and stagnation in our business is the difference of 2-4 members per month. If we can consistently add or retain 2-4 members more than we lose each month, that's 25-50 members in a year. This equates to hundreds of members over the course of a few years, and is the difference between building a thriving business and going out of business.
Our class experience can be our greatest asset or our greatest liability. But a good class experience is not good enough. A good class experience will always rely on marketing to grow it over time and most of us are not marketers, we're coaches and gym owners.
An exceptional class experience is a flywheel that feeds itself. Members stay for the long-term and refer more friends just like them.
The Rockstar Coaching Course will help you take your class experience from good to great.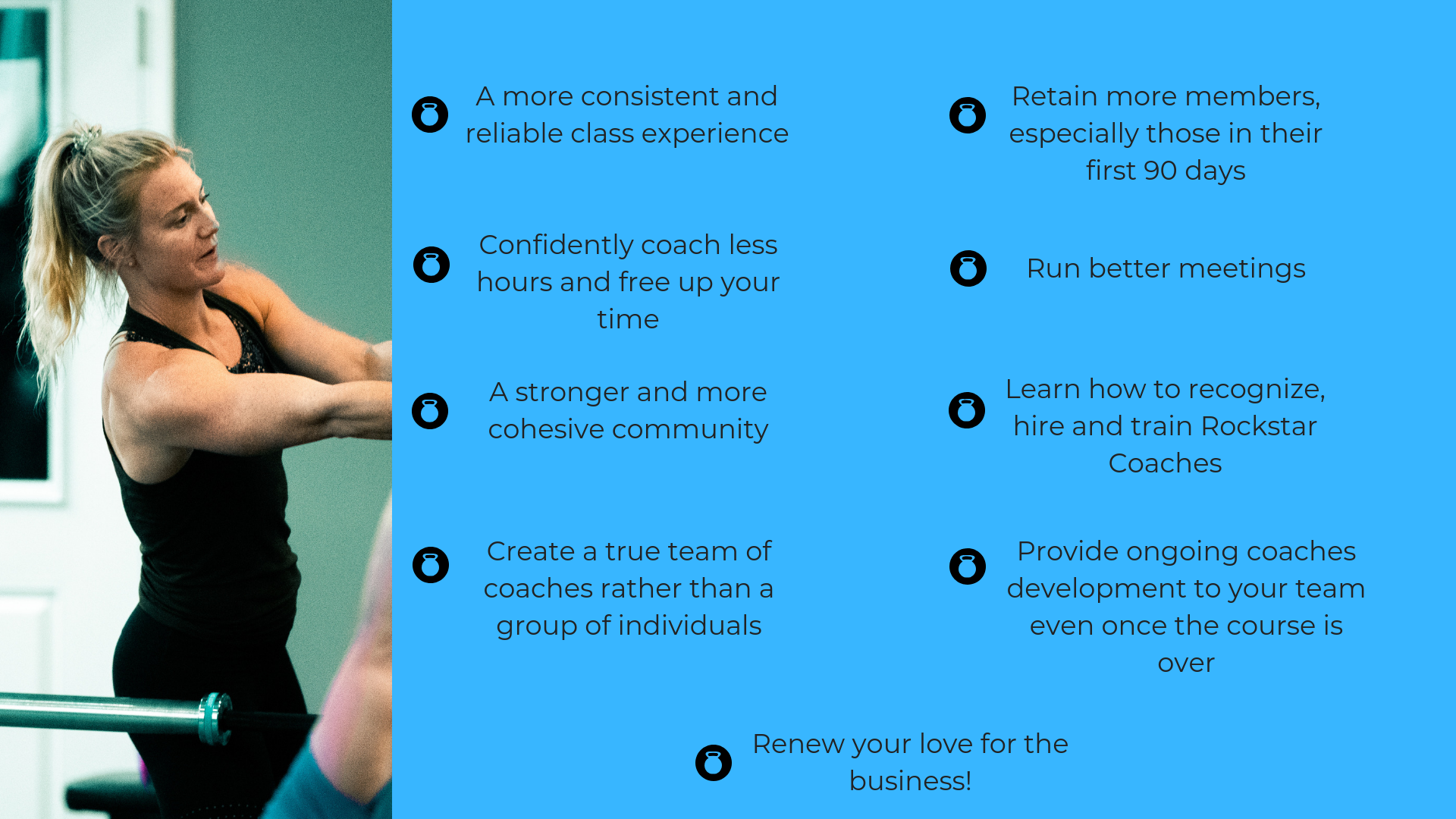 This is not your typical coaching course.
We set out to create a course that would not only make YOU a better coach and owner, but one that is specifically designed to build your entire TEAM together. Because not only is it expensive to pay for certification after certification, but it's bad for business.
In order to grow your gym you need to have a consistent class experience from your first class of the day to your last. You need to have the same great experience on a Thursday that you have on a Monday. Having one or two really good coaches can actually take away from your class experience if you have other coaches that are weak links. Your team and your business is only as strong as your weakest coach and your weakest class.
This course is designed in a way where you and your team can grow TOGETHER and you and your stronger coaches can help your underperforming coaches to develop their skills faster.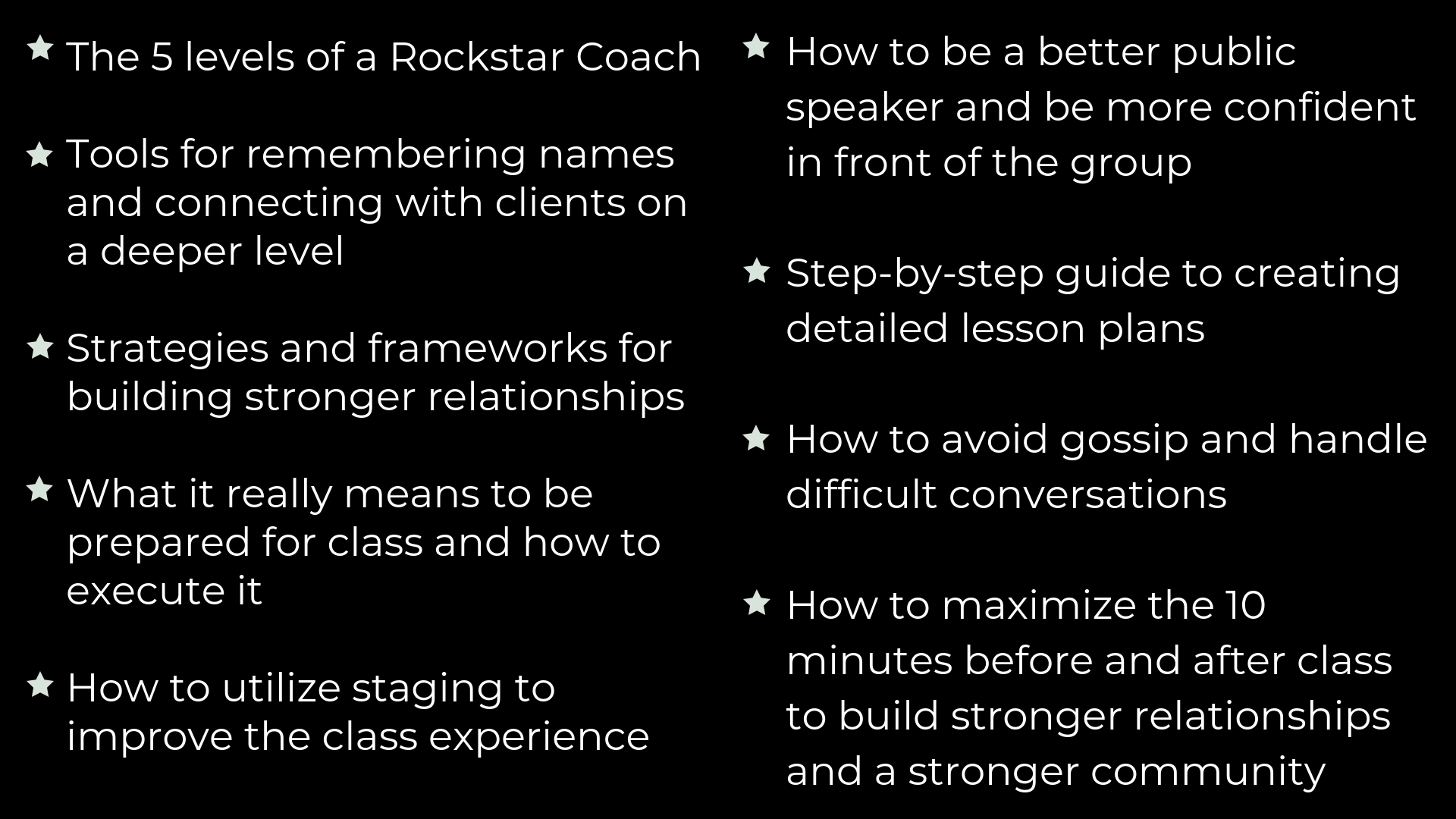 This course will help you recognize great coaches and create more of them.
Most owners have no idea how much energy and passion they are losing daily from the drain that a bad employee puts on their business. If you have a bad apple on your team, it is literally like an anchor weighing you down from the success you could be having. You'll eventually lose your best coaches and best employees because they won't want to be a part of a team or an environment that lets that persist.
This course will help you know what to look for when you hire your next coach.
It will help you train your coaches to work towards a common goal of creating the best possible class experience.
It will open up lines of communication between you and your team that never existed before.
It will help you run better meetings.
It will help you incorporate regular coaches' development that will never let your coaches get complacent or stagnant.
This course is one that will make every other course more valuable, because it's going to allow you and your coaches to use the technical knowledge you already have to its full capabilities.
Once you are no longer the sole coach and employee at your gym, your most important role as the business owner becomes developing your coaching staff. It's no longer about keeping your members growing and improving, it's about keeping your coaches growing and improving.
It's time to invest in the most important asset you have in your business, your coaching team.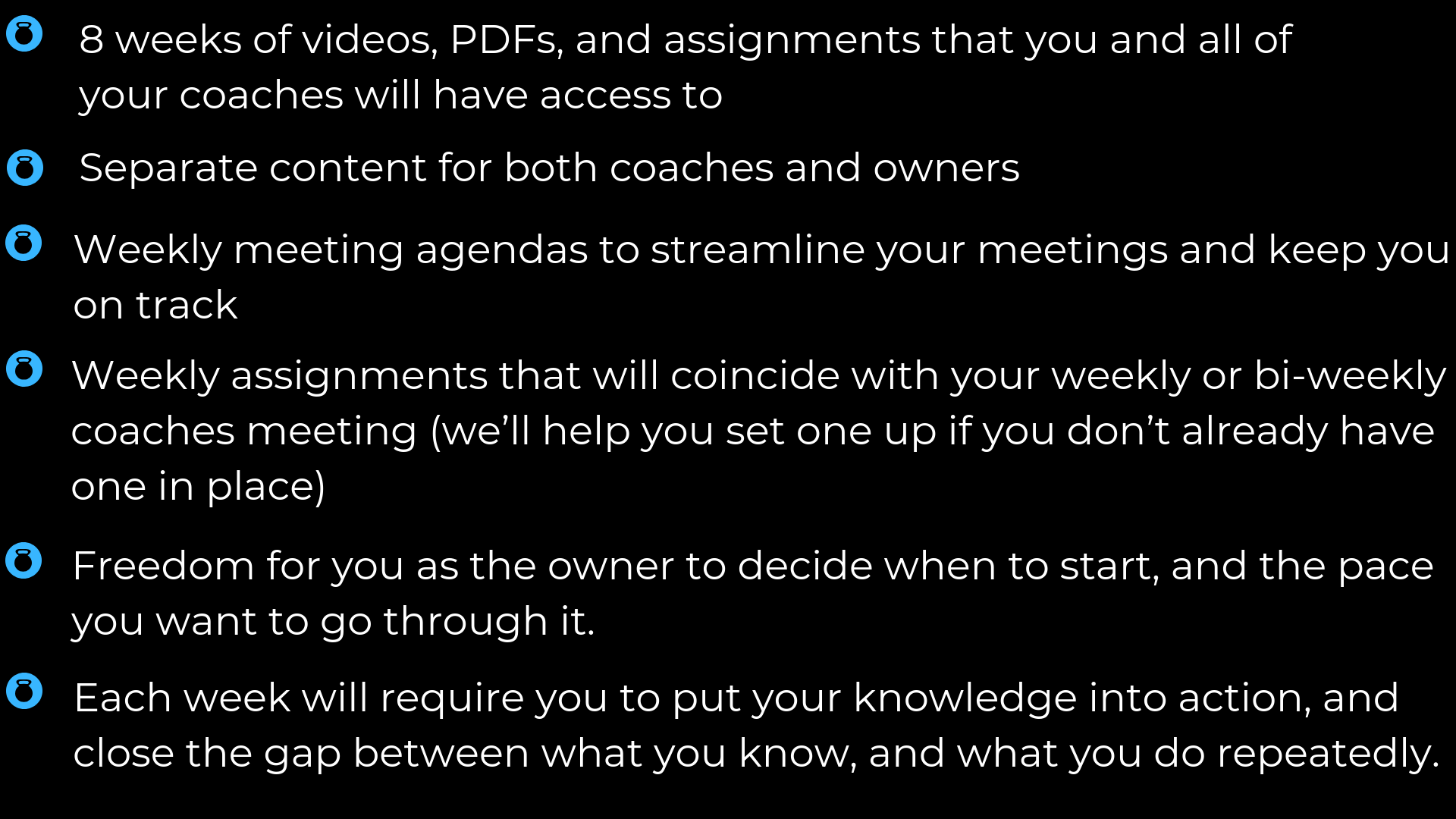 Your Instructor
Owner and Head Coach of CrossFit Palm Beach in Jupiter, FL
Owner and CEO of the Seven Figure Box Website and Podcast
Owner and Course Creator of the Rockstar Coaching Course
My brother and I ed CrossFit Palm Beach back in December 2012 and have successfully grown CFPB to over 500 members, 7 figures of annual revenue, and a team of 12 coaches. CrossFit Palm Beach is our dream gym; it's a place that we love coaching and working at, and a place that we love to take classes with the members every day. We created Seven Figure Box and the Rockstar Coaching Course to help other gym owners create their own dream gyms.
Course Curriculum
Introduction
Introduction and What to Expect (3:12)
(Owner's Content) Leading By Example and Getting the Most out of This Course and Your Team (5:55)
(Owner's Content) Week 0 Meeting Agenda
Week 1: What Makes a Great Box?
What Makes a Great Box? (6:40)
Why Do You Coach? (18:56)
Coach's Assignment: Why Do You Coach? (2:42)
(Owner's Content) Owner's Assignment: 10 Year Vision (7:03)
(Owner's Content) Week 1 Meeting Agenda
Week 2: What Makes a Great Coach?
The 5 Levels of a Rockstar Coach (16:26)
How Much is Your Class Worth? (3:25)
Coach's Assignment: Which Role Do You Spend the Most Time In? (1:50)
(Owner's Content) Week 2 Meeting Agenda
Week 3: The Cheerleader (Part 1) – The Emotional Bank Account
Introducing the Emotional Bank Account (26:46)
Cheating Reps – How to Handle Difficult or Uncomfortable Situations (5:41)
The Burpee Penalty – How to Handle Late Members (2:20)
Coach's Assignment: The Emotional Bank Account (1:32)
(Owner's Content) Week 3 Meeting Agenda
Week 4: The Cheerleader (Part 2) – Relationship Building
The Greatest Asset You Have As a Coach…The Ability to CARE (4:19)
The Sweetest Sound in the World – Tips and Tricks for Remembering Names (3:33)
Break the Ice and Build Strong Relationships Fast with the Relationship Building Model (15:06)
Coach's Assignment – The Relationship Building Model (2:03)
(Owner's Content) Week 4 Meeting Agenda
Week 5: The Director
The Cheerleader Cares, The Director Prepares (6:10)
Overcoming Public Speaking Fears and Becoming More Confident in Front of the Group (8:33)
Utilizing Staging to Enhance Member Experience (18:18)
The Director Trap (5:50)
The Perfect Whiteboard Explanation (18:31)
Coach's Assignment: Prepare and Present a Workout of the Day (3:22)
(Owner's Content) – Week 5 Meeting Agenda
Week 6: The Technician
Same, Better, or Worse? Are You Being Honest with Yourself as a Coach? (10:50)
The Underrated Skill of Demoing (9:18)
A Framework for Learning and Teach Anything (7:17)
Coach's Assignment: Teaching, Demonstrating, and Correcting Movement (3:21)
(Owner's Content) Week 6 Meeting Agenda
Week 7: The Programmer
Knowing and Speaking to Your Ideal Member (12:08)
Why Most Programming is Overrated (13:36)
Creating the Perfect Lesson Plan (22:35)
Coach's Assignment: Creating a Detailed Lesson Plan (3:16)
(Owner's Content) Week 7 Meeting Agenda
Week 8: The Coach
Overcoming Complacency and Burnout (3:55)
Why Coaches Should Take More Classes (12:05)
The Excellence Checklist (32:11)
Coach's Assignment: The Excellence Checklist (3:24)
(Owner's Content) Week 8 Meeting Agenda
Bonus Materials for Week 9 and Beyond
(Owner's Content) Class Evaluation Worksheet
---
Proof Content
Sale Page: https://rockstar-coaching-course.teachable.com/p/rockstar-coaching-course
Archive: https://archive.ph/wip/xNF7z